Right, so, Last night, I'm enjoying my new rig. I noticed that my idle temps were a little higher than I liked on my GPU, I got worried, shut it down, and proceeded to take this thing apart.
If you caught my thread over in the system builds forum, you'll see that I had a bit of an 'incident' 2 weekends ago -- my XPS H2C water block pump took a fat dump and leaked coolant all over the inside of the case. After removing the Heatsink, (and voiding my old warranty while I was at it), I noticed that the powdery residue left by the coolant (evidenced by the same residue on the inside of the case) had somehow been brought into the fan on the GPU and sprayed all over the inside of the GPU board.
Great.
Now when I say all over, I'm exaggerating slightly; but the point is that it took me three hours to get *most* of the garf off of there using alcohol and a microfiber cloth. I happily have plenty of leftover Arctic Silver 5 left over from my i7 3930K installation, so I'm unconcerned...
That is, until I notice this:
(note - picture is pulled from another website; for illustration)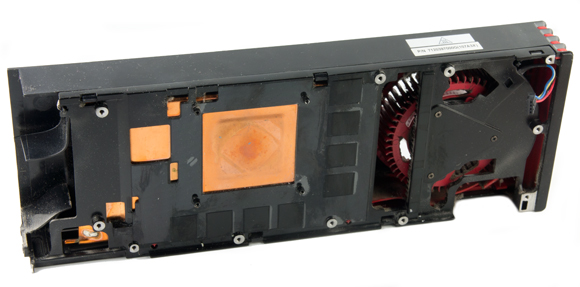 I was able to heatsink just fine and run some BF3 for a moment; however, my paranoia must be getting the best of me because I keep thinking about those 8 dark black squares that form a half-perimeter around the main copper heatsink surface.
They're all covered in some kind of white compound surrounding what looks like little linen pads. My intuition says they're some kind of thermal conductors; but I'm not entirely sure. See this now: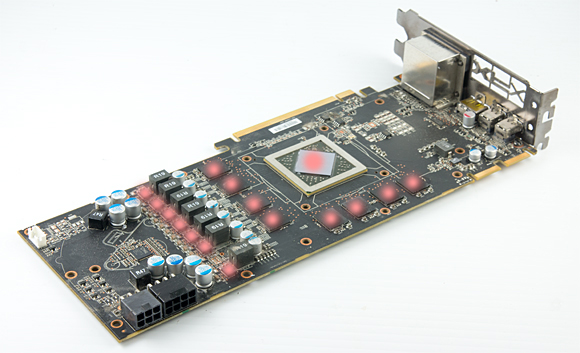 The guy has highlighted, in red, the items which need thermal grease applied to them. Comparing it to the picture above, I can't, for the life of me, figure out where on the stock heatsink these things are supposed to be making contact with (the aftermarket cooler he's installing comes with little VRAM heatsinks).
My question, then, is this:
Do I need to, once again, uninstall my heatsink on my AMD Radeon HD 6970, apply Arctic Silver 5 to not only the GPU, but the VRAM that's highlighted in the picture above? Do I need to apply something else to those VRAM chips (more along the lines of the linen-compound I mentioned); and where are they making contact on the stock Heatsink (because the black areas appear to be plastic)?
Advice is much appreciated! I'm quite ready to be done with these shenanigans and have a machine that I'm not worried about again.