As promised here are some photos I took of the switch from my Antec 300 to this new Phanteks case.
So to start this off here is a picture of how my system looked before I got started. Cable management was pretty much impossible.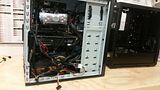 So ya, that was always pretty hideous. Now onto the build. The 3.5" hdd's went in incredibly easily without any tools needed. The ssd's were a matter of 4 screws each but still pretty easy.
Things were going pretty good up to this point,,, and then I put the power supply in. Now this was the moment where I got scared, very scared. I was having flashbacks to how the old system looked. I just tried to keep it together though, because there were children around and I had to stay calm.
Much to my surprise it all came together. The cable management on this case was very easy and I think that Phanteks has some sort of voodoo magic inside this thing. Cables just simply dissapear in front of you as you build it.
It was so nice having so much room to work with. The video card and other devices was very easy to fit in there.