Posted 06 October 2014 - 02:25 PM
Primary Rig - i5-4670k - Asus Maximus VII Hero - Mushkin Enhanced Redline 16GB @ 2133 CAS9 - Evga GTX 980 - Silverstone 1200w
Second Rig i5 2600K @ 4.2Ghz -Asus Maximus IV Gene-Z -Mushkin Redline ddr3 8Gb -EVGA 780 ti classified -Silverstone 850w
Third Rig - MSI GT60 2OD Laptop - i7 4700MQ @ 3.2Ghz - 16Gb ram - Nvidia GTX780m - 128,120,240msata ssd - 1TB HD
Fourth Rig -i7 980x @4.2GHz -Asus Rampage 3 extreme -Mushkin Ridgeback ddr3 12Gb -4 GTX 670 superclock+ -Evga 1600W G2
I dont fail. I just succeed at finding out what doesn't work.
---
Posted 10 October 2014 - 11:45 AM
Looks like Andrew needs to update the spreadsheets, lol.
Did this for no reason really, as my results are disappointing, lol. CPU Is at max clocks the entire time, and my GPU is fully overclocked for wha it canbe (both settings are accomplish via AMD Overdrive).
Heaven @ 1280x720: 220
Valley @ 1280x720: 366
Gateway NV52L15u
15.6" HD LED LCD | AMD A10-5750M | AMD Radeon 8650G | Samsung 850 EVO 256GB | 8GB DDR3 1600
------------------------------------------------------------------------------------
Revived Gaming PC
HP w2207h LCD | AMD Phenom 9150e @ 2.165GHz | MSI GeForce GTX 750Ti | HGST 500GB 7,200RPM | 4GB DDR2 800
------------------------------------------------------------------------------------
---
Posted 20 October 2014 - 02:59 AM
i7930 rig results
unigine heaven 4.0
1280x720 202.1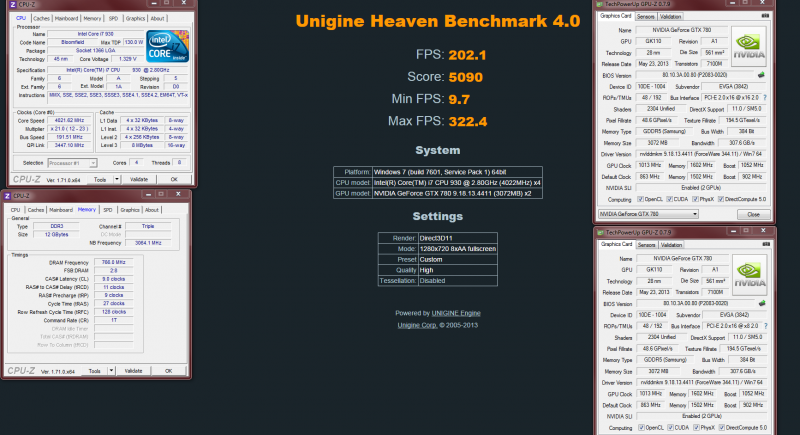 1920x1080 157.3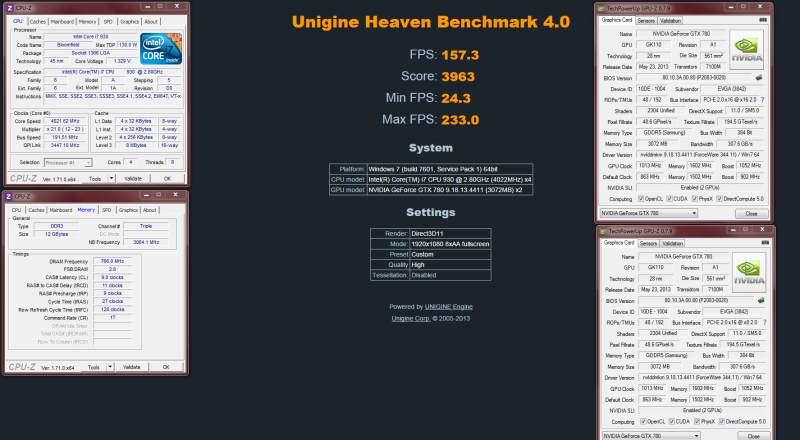 valley
1280x720 106.6
1920x1080 105.9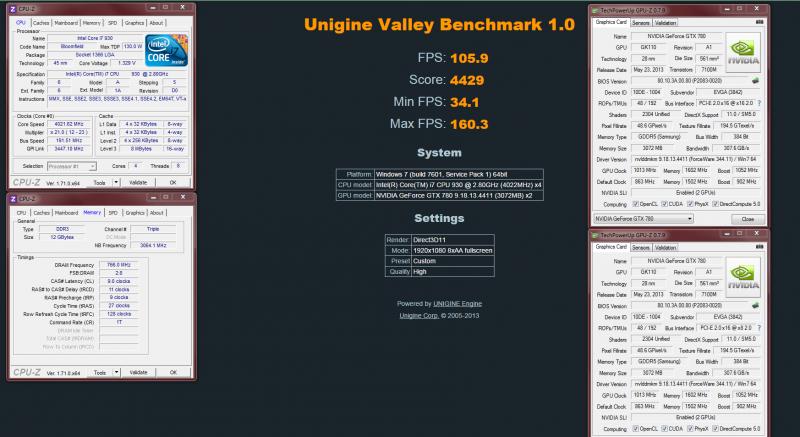 more results coming from other rig. stay tuned

---
---
Also tagged with one or more of these keywords: Unigine, Valley, Heaven, dx11, benchmark