I haven't really done a great deal of modding up until now, and with my slow upgrade process I though it would be an ideal time to jump in and get a project under way (it also helps that I have plenty of free time right now).
I have followed a good number of case build projects and have often been impressed by the results that others have been able to achieve.
This will be my first attempt, so I'm trying not to be too ambitious with the complexity. Plus I don't have access to many tools or a workshop right now, so the build can't require too much heavy machine work.
What I want to get out of the project (goals)
A case that:
- Is in a Micro ATX format. I don't want this thing to be huge, though it will probably be a bit larger than a regular mATX case
- Is as quiet as possible. I really don't want to be able to hear this thing while doing simple tasks or while listening to music.
- Has decent cooling ability. I realise this is going to be compromised by the above point.
- Is relatively cheap and easy to put together. Ideally it won't be any more expensive than buying a prebuilt case (but I'll get exactly what I want).
Hardware:
Known:
- 8GB Muskin DDR3
- Corsair AX850 PSU
- Xilence fan controller
- HD 4850 With AC Accelero S1 (at least for now)
- TRUE Rev. C
Unknown (depening on platform decision):
- AM3+ or 1155 mATX motherboard
- Suitable AMD or Intel CPU
- 2 x 140mm Fans - poss Thermalright TY-140
- 2 x HDD (either from current build or new), maybe 1 x HDD, 1 x SSD (funds permitting)
Initial Designs
I started with some simple sketching to solidify some ideas in my head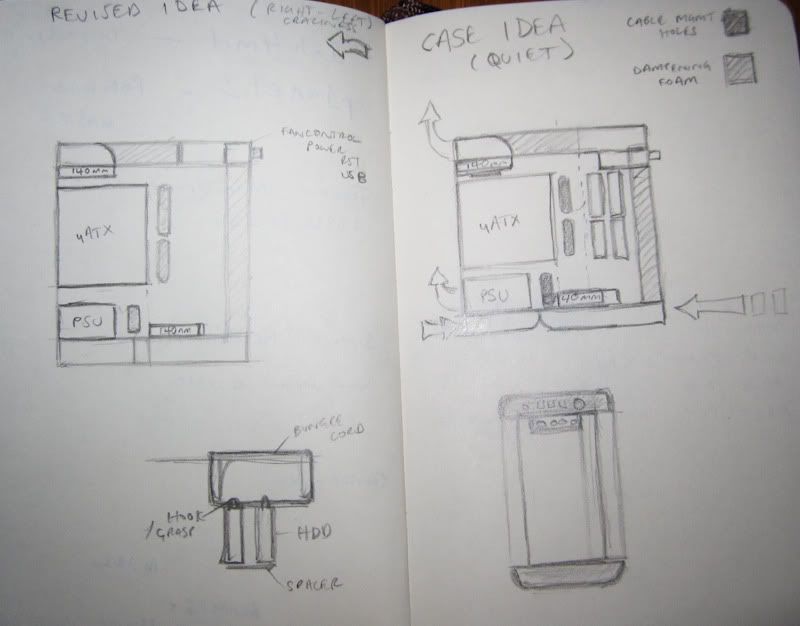 Then I fleshed these out into a reasonably rough model in Sketchup
Overview: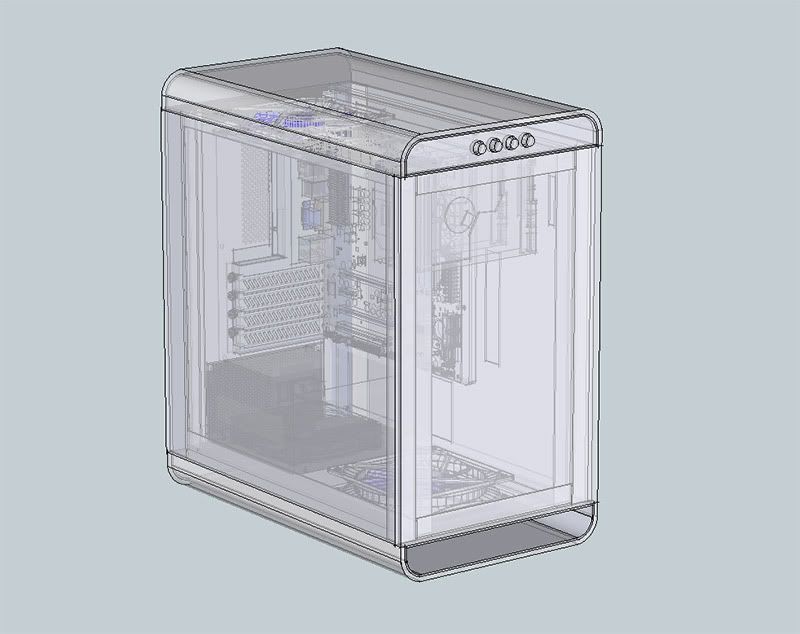 Front: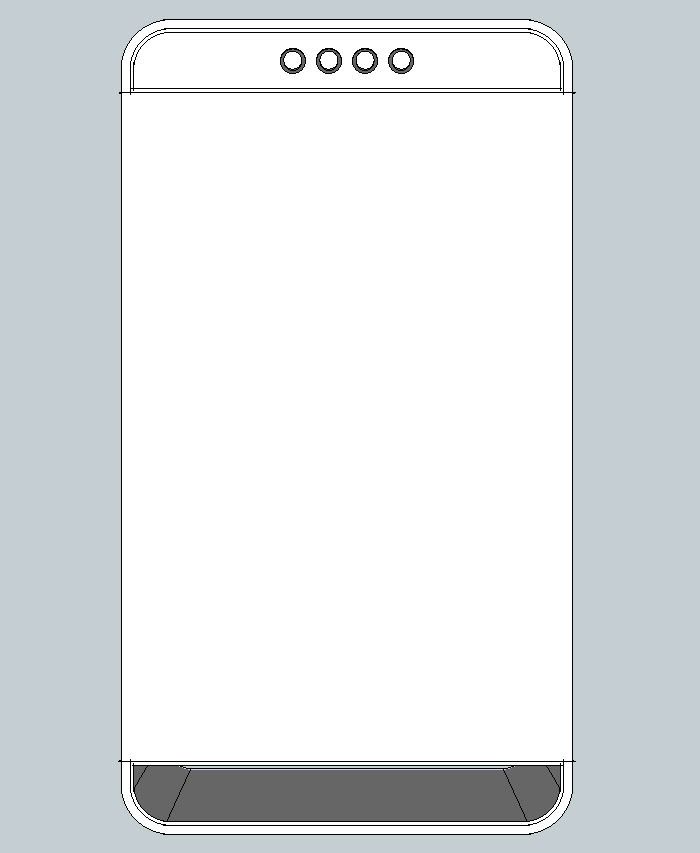 Rear:
Inside: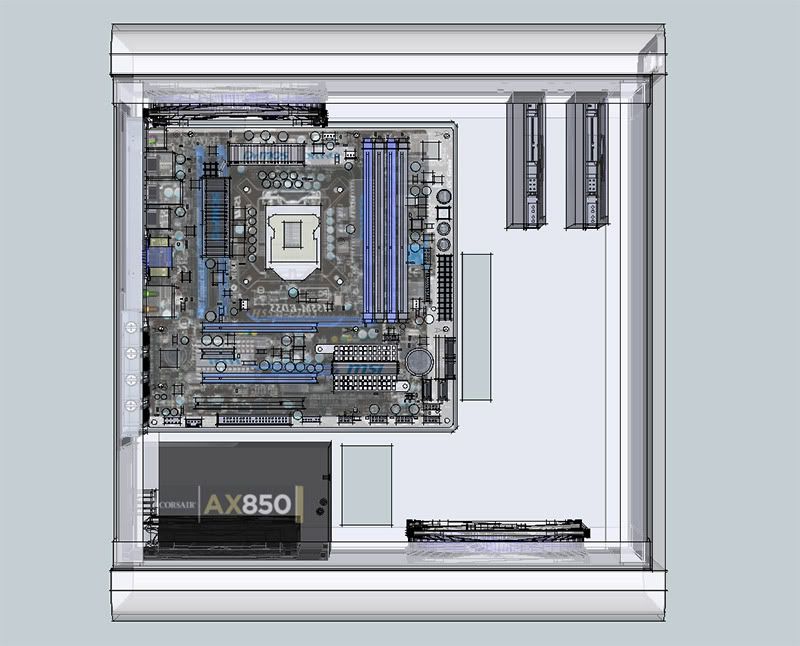 Behind the motherboard: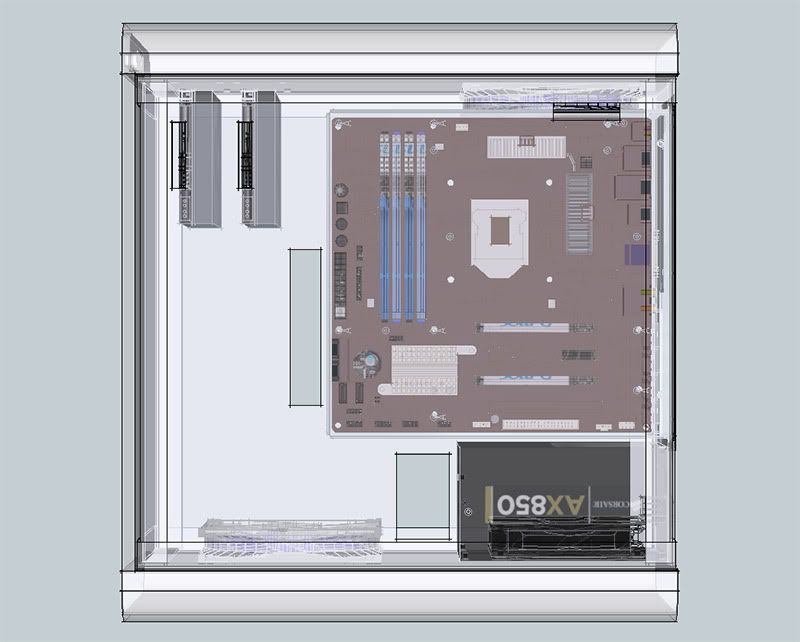 A bit of explanation:
Obviously it is reasonably compact, with room for a mATX board.
There are no 5.25" drive bays, so that means no optical drives (unless I connect one via USB).
Therefore the front panel will be completely solid, no openings.
HDDs will be suspension mounted to the top internal case panel (I have a system with bungee cord planned that should hopefully be both simple and effective).
Two sections added to the top and bottom of the case (these the ones with the rounded profiles). The bottom one will be divided in two and provide air intake. The top one will have an exhaust opening at the back and the fan controller (and likely USB and power switches etc.) at the front). The idea is that no fans will have a direct sound path towards me.
Speaking of fans, there will be two 140mm fans, one intake at the bottom of the case at the front and an exhaust at the top towards the rear.
The main frame will be made from aluminium angle, though I am still undecided on some of the other materials for case panels etc. Some of the choices may be novel (and also largely dictated by cost).
Extensive use of acoustic foam throughout the case. That is why the side panels provide more space, if you had noticed that. Foam isn't pictured in the model, though will feature on all internal panels.
I don't have the tools or likely skill (to be honest) to manufacture a motherboard tray/back panel from scratch, so that will likely be the most expensive part of the build. I have one on order (A
Lian Li model
that I am waiting on stock for).
I'd be happy to answer any questions, and I'm hoping to get the initial frame under way reasonably soon.
Edited by jammin, 16 May 2011 - 01:34 PM.