To the naysayers- Have a little more faith
This should seriously take you less than 10 minutes. Cut the tabs, slide the fan in: It's practically a 1 step mod since sliding a fan in is easier than screwing it in anyways.
And of course if you haven't rotated your heatsink, add that in. Much easier and more effective than modding the case, and it also leaves the case in it's original, unblemished condition.
**If you have a Dremel: This should take you about 60 seconds: The plastic cuts fast by hand, I imagine a dremel blade would slice through it like butter.
---------------------------
This is a guide to installing NZXT's own fans (200mmx30mm) into the side panel of the NZXT Phantom Full Tower Enthusiast Case.
UNDERSTAND THAT YOU MAY DESTROY THE FAN'S MOUNTING TABS IF YOU ARE NOT CAREFUL- YOU ASSUME ALL RESPONSIBILITY FOR ATTEMPTING THE STEPS IN THIS GUIDE
**Note- If you cannot fit your tower heatsink vertically (ie- large RAM DIMMs prevent you from rotating heatsink), you may have to trim an extra millimeter off the tab, as the copper heatpipes push against the center backplate of the fan in horizontal allighnment. I don't mean the blades, I mean the base for the motor. I just preffered to use the seam as a guideline to make this guide easier to explain in an exact fashion.
---------------------------
Tools required: A saw blade
(File and pliers are entirely optional and not necessary: You can snap tabs off with fingers: I'm just finicky about mine.)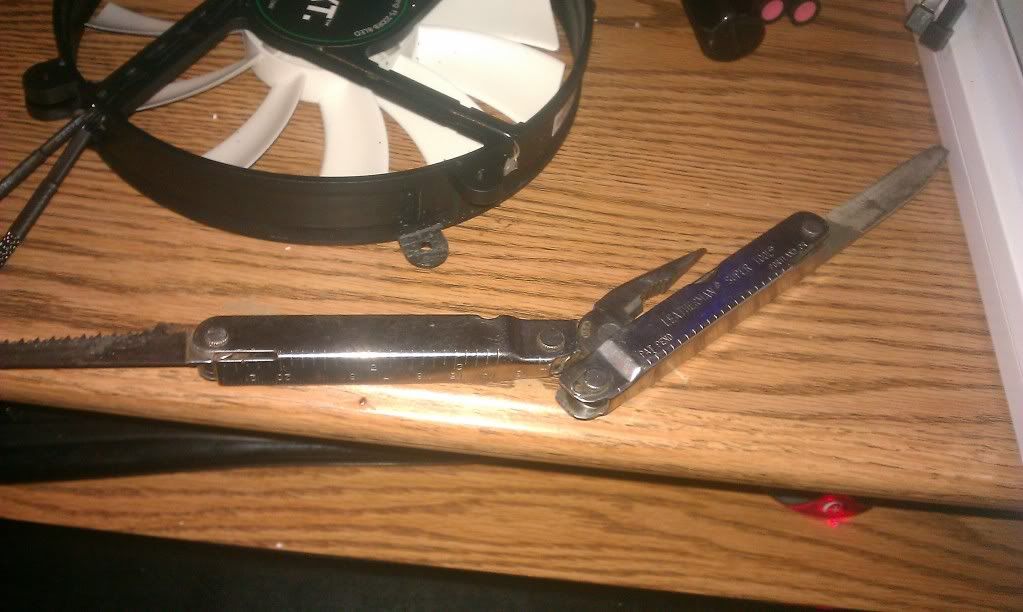 ---------------------------
Step 1:
Cut through the mounting tabs, try to align the cut just outside of the "seam" seen in pictures below, and cut about 1/16" further into the fan itself: The extra 1/16' inch groove will allow the fan to fit into the tabs otherwise it's a hair too wide.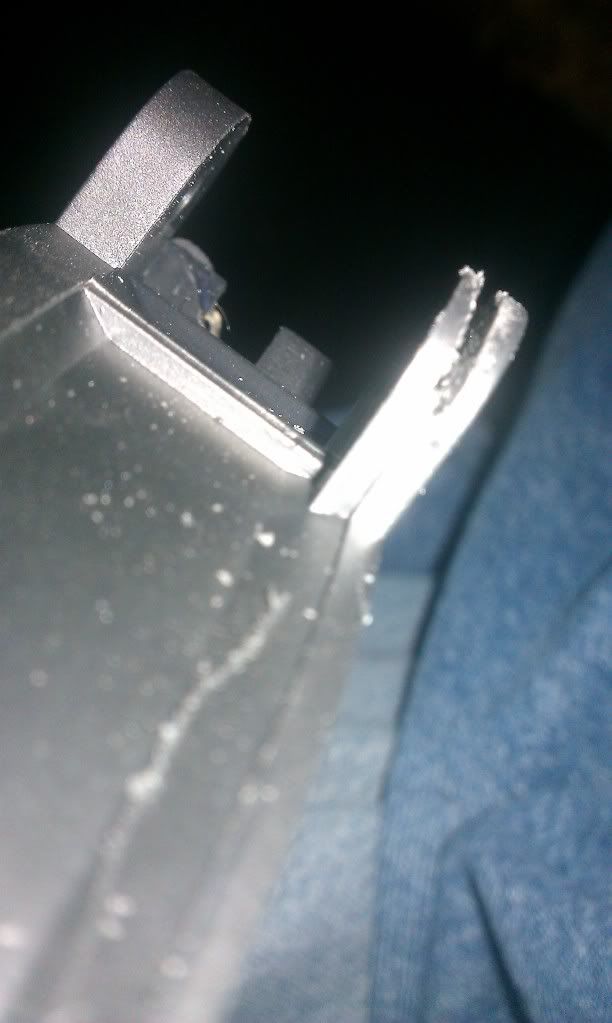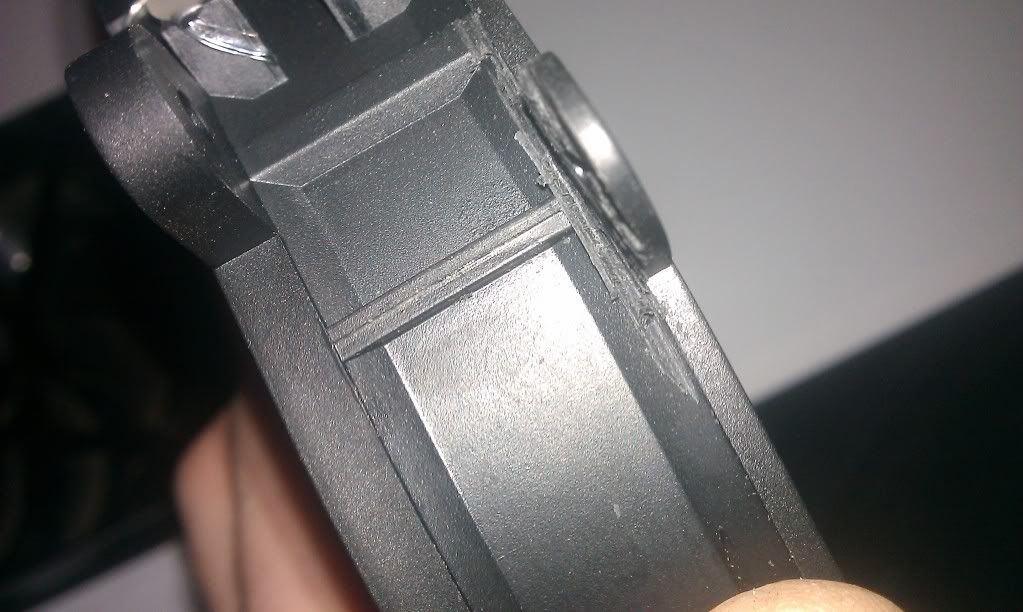 Step 2:
Break off the INTERIOR half of the tab that is nearest the "middle" of the fan- Pliers are the safest method: But fingers or "tilting" the saw blade also work.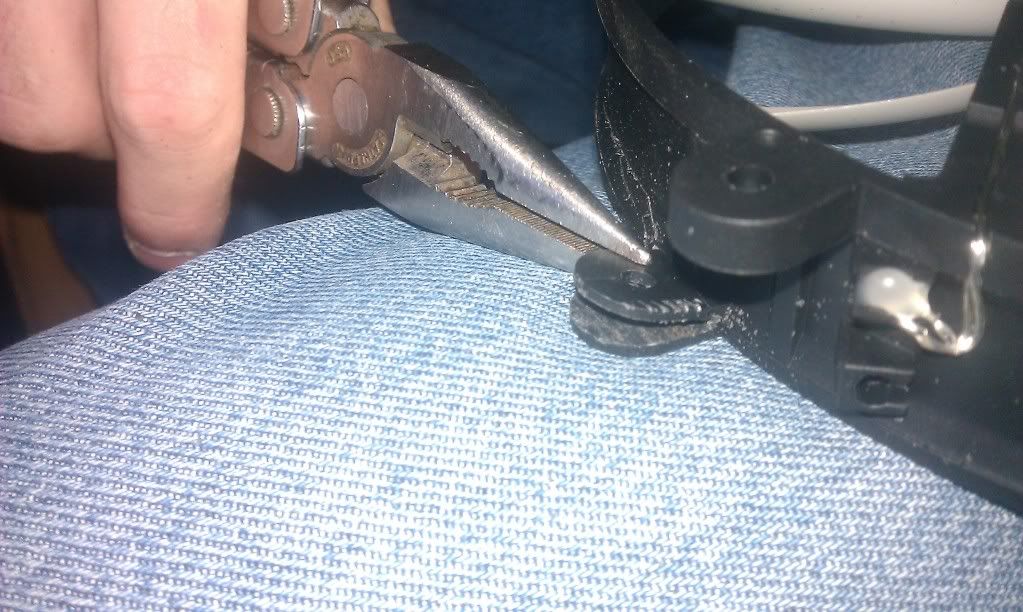 Step 3:




Slide the fan between mesh grating and metal plating of side panel. If you cut it properly, the pressure alone holds it firmly without vibration.


**Slide it in the whole way: lined up with screw holes. The image is only partially inserted to show the idea of sliding it in.





Step 4:


[size="4"]Align your Hyper 212+ vertically.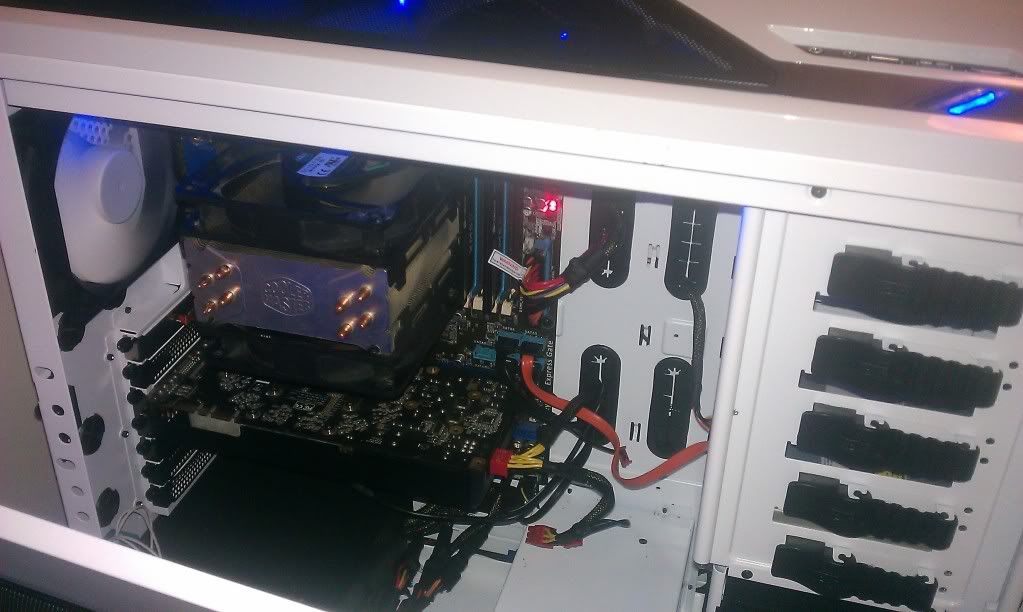 That's it: You're done!
Now wasn't that simple? You're welcome
Personally, I broke one tab: So I have 3 tabs holding it in place: Still works without vibration or noise, and is held firmly in place.
Here's the finished project:
Video proof of concept (to show how safe it is, sorry for bad quality):
And yes, the audio is entirely out of sync. Nothing I can do about it, my camera's recording medium is garbage.
Edited by dragonsdontfly, 07 April 2012 - 04:12 PM.